Events

If you'd like to have your event posted on our site, please email
webmaster@aomt.org
with the information.
2016 aomt Fall CMTE event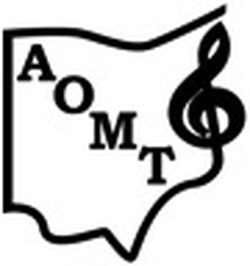 50 Years of Service - Center for Music therapy at the Music Settlement
​Join Us as We Celebrate 50 Years of Providing Music Therapy Services to Our Community

November 7, 2016

The Music Settlement
11125 Magnolia Drive | Cleveland, OH 44106

We Will Honor

Mrs. Anita Louise (Steele) Markland, MM, MT-BC
for Her Distinguished Leadership and Pioneering Contributions to the Field of Music Therapy


Keynote Speaker

Michael Silverman, PhD, MT-BC
Director of Music Therapy
​at the University of Minnesota
Event Schedule
4:30 pm
Tours of Kulas House and Music Therapy Studios
5:30 pm
Registration and Hors d'oeuvres
6:30 pm
Program Begins
Featuring Musical Performances by Center for Music Therapy Clients
Tickets are $125 per person ($55 tax-deductible)
RSVP by November 2, 2016
To RSVP:
Online: Purchase tickets by clicking the RSVP HERE button at the top of this email or go to
TheMusicSettlement.org/golden
By Phone: Call Cheryl in the Development Office at
216-231-5070
By Mail: Mail your check payable to "The Music Settlement" to: The Music Settlement c/o Music Therapy 50th Anniversary, 11125 Magnolia Drive, Cleveland Ohio 44106
To Make a Tax-Deductible Contribution:
http://www.themusicsettlement.org/give/donate-now
Honoree, Mrs. Anita Louise (Steele) Markland, MM, MT-BC
Louise Steele was the first Director of The Music Settlement's Center for Music Therapy (then named the Music Therapy Department). She led the Center for 37 years and established The Music Settlement as the first community-based music therapy program of its kind and the first to provide music therapy services on a contractual basis. She has been a prolific researcher and author and was instrumental in developing the music therapy degree program for what is now the Cleveland Music Therapy Consortium (located at Baldwin Wallace University). She directed the Music Therapy Department at Ohio University for eight years. She currently holds the title of Associate Professor Emerita at Ohio University and serves as a grant consultant for the Kulas Foundation in support of music therapy programming and research.
Keynote Speaker, Michael J. Silverman, PhD, MT-BC
Director of Music Therapy at the University of Minnesota, Dr. Silverman specializes in music therapy for adults with mental illnesses and substance abuse disorders. He is a member of the research staff at the University of Minnesota Medical Center, Fairview, where he conducts music therapy clinical work and research with mental health and substance use populations. Dr. Silverman is an active presenter and author and currently serves on the Board of Directors of the American Music Therapy Association (AMTA) and several editorial boards.
For more information please visit our website at
TheMusicSettlement.org
.
2016 AMTA National Conference
Show Your Ohio AOMT Pride in Sandusky in November!

​

---

Ohio music therapists are fortunate to have this year's national AMTA conference right here in our state at Kalahari Resort in Sandusky from

November 10th - 13th

.

Ginny Kally

and

Marcia Humpal

are local chairs of the Professional Volunteers Committee. We still have openings for people to help staff the registration desk throughout the conference. This is a fun way to greet (and meet) many fellow music therapist. We will be glad to work around your schedule when designating time slots. Any time you can volunteer will be greatly appreciated.

​Please email

mehumpal@ameritech.net

if you can help. Thanks in advance for considering this opportunity!
2017 Events PReview

February 18, 2017

Norton Healthcare Music Therapy is proud to collaborate with
TSTAR (TRANS + SEXUALITY TEACHING, ADVOCACY, + RESEARCH)
to present a workshop discussing ethics, considerations, and the needs
of persons with marginalized gender and sexual identities.

Details to follow.



August 12, 2017

Dr. Elizabeth Stegemoller will present in a all-day workshop at Norton Healthcare on music therapy and Neuroscience!

Details to follow.