Welcome!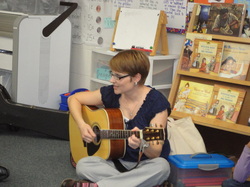 Welcome to the Association of Ohio Music Therapists (AOMT) website. Here you can find information about music therapy and the state of music therapy in Ohio, continuing education opportunities, job postings, benefits of membership, how to become a MT-BC and much more.
Please contact me at
president@aomt.org
if you have any questions, thoughts to share or additions you would like to have on the website.
Sincerely,
Tanya Corso, MT-BC
AOMT President
---
What's New on the Site?
- Congratulations to Cincinnati Children's Hospital on becoming a National Roster Internship!

- A new page for the Task Force has been added under "News". It contains both the fact sheet and a FAQ from the licensure vs. registry survey that recently went out.

-Check out the latest additions to the JOBS section of the website, also under "News".

Our Mission
The mission of Association of Ohio Music Therapists is to serve as an educational resource and advocate for the profession. In following the mission of AOMT, the organization strives to maintain the following core values:
- Providing educational and networking opportunities to enrich music therapists and the field of music therapy.
- Advocating for the profession and music therapists within the state.
- Educating consumers and the community at large.
- Promoting the exchange of ideas to assist music therapists and other related professionals in better meeting the needs
of their clients.